Welcoming Students from Around the World
Why Choose Truman Bodden Law School of the Cayman Islands?
Who would not want to live on a tropical island while studying law? If you want a taste of life on Cayman, watch the following video:
If you are considering coming to the Cayman Islands to study full time, then you may need a visa. The following persons require a visa:
if you are not a Caymanian; or

if you are not the spouse of a Caymanian; or

you are not a Permanent Residence holder; or

you are not an Employment Rights certificate holder.
and who
is eighteen years of age or older;

is seeking to enter the Cayman Islands for the purpose of attending a recognised educational institution on a full-time basis;

intends to leave the island at the end of their studies; and

is not named as a dependant on a work permit, a Residency & Employment Rights Certificate, a Residency Certificate for Persons of Independent Means, or a letter conferring the grant of permanent residence.
More details, including the Student Visa Application Form can be found on the following link:
Cayman Islands – Immigration Department – Student Visa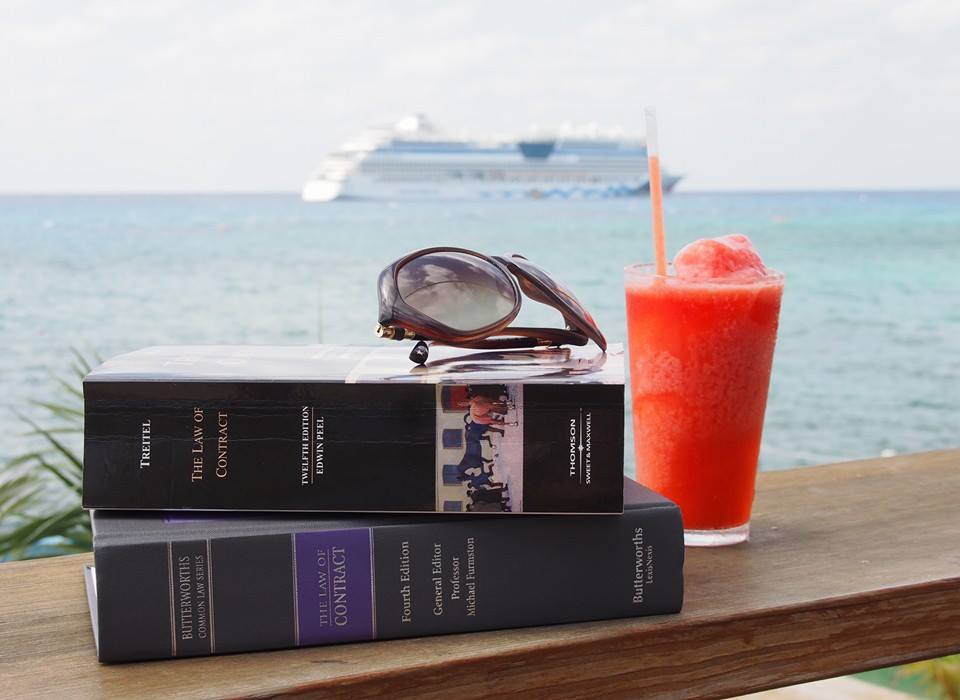 Applications for September entry are open from mid-September in the preceding year until 1 June of the application year, and applications should be made directly to the Law School.
Click Here for more details on admissions. Please contact us if you are unsure about whether you have the necessary qualifications.
Postal Address:
The Truman Bodden Law School
P.O. Box 1568
Grand Cayman, KY1-1110
CAYMAN ISLANDS
Tel: 345-945-0077
Fax: 345-946-1845
Fees (Please note: All fees are subject to change)
| Fees | $ |
| --- | --- |
| General Application Fee: | USD 183.00 |
| Place Deposit: | USD 305.00 |
| Mature Entrants' Examination Application Fee: | USD 122.00 |
| LLB Examination Fees: | USD 61.00 per examination |
| Tuition: | USD 17 073.17 per year |
| Approximate cost of text-books: | USD 610.00 |
| University of Liverpool Registration Fee made payable in Sterling Pound: | £ 1 650.00 |
| Items | Costs |
| --- | --- |
| Rent (this will vary on type of accommodation location and if sharing with other students) | KYD 1 000.00-1 500.00 per month |
| Water and Electricity | KYD 200.00 per month |
| Food etc. | KYD 100.00 per week |
Again living costs depend on whether you are willing to share with other students.
All fees converted from KYD to USD at a conversion rate of x .82 if paying by cheque, x .80 if paying by cash.
Usually you need to use a real estate agent who specialises in rentals when trying to find rental accommodation. The service is free to the renter as the owners hire agents to find tenants. The Cayman Compass, the local newspaper, also has ads every Friday, but a real estate agent will do all the legwork for you and drive you around to look at different options. You should think about the following points before you call an agent:
Be realistic. Rent in Cayman is not cheap. You may have to share with other students in order to keep within your budget.

You may want to be close to Law School, but you may get better value being further from George Town or Seven Mile Beach. You also need to be on a bus route, unless you plan on buying a car, or using a bicycle.

How many bedrooms do you need or want? Am I willing to share? As a student you really only need a one-bed flat, but you may be willing to share in order to have a larger apartment. This can be an advantage particularly when you are in a new country.

When will you arrive in Grand Cayman and when will you need the unit? Most tenancies start on the first of the month, but most landlords will hold the unit for you with a security deposit (often equal to one month's rent).
The following links may be of use to you:
What Our Students Say About Us
Olivia Connolly, England
"The opportunity to study in paradise is a huge bonus for me, why choose rainy England when I can read law on the perfect white sand of Seven Mile Beach?

Why study at the Truman Bodden Law School in the Cayman Islands? For me, the link to the University of Liverpool was critical to my choice. The fact that the Law School awards University of Liverpool degrees enables me to get all the additional adventure and experience that comes from studying in the beautiful Cayman Islands, but at the same time be secure in the knowledge that my qualification comes from a respected university that is a member of the elite Russell Group of Universities in the United Kingdom. The link with Liverpool also helps to ensure the very high quality of the faculty staff in the Cayman Islands.

The Truman Bodden Law School also has the significant advantage of a low student to staff member ratio that means that students have exceptional access to lecturers for help and guidance. This is a particularly important point in relation to law studies as law involves learning a new vocabulary, so being exposed to a high level of discussion and argument not only gives breadth and depth to the subject, but also makes undertaking the course very enjoyable.

There are also plenty of opportunities at the Law School to participate in activities outside of formal classes that are fun and help to develop useful skills, for example, mooting competitions and the pro bono Legal Befrienders scheme where students can support qualified lawyers giving legal advice help to real people with real problems. Such skills prepare students not only for careers as lawyers but also for diverse careers in policy-related fields, such as government, international organisations, the voluntary sector, and in business.
Kenval Bryan, Jamaica
"TBLS provides unrivaled student support because of the small student numbers!

The Truman Bodden Law School provides me with the opportunity to pursue a qualifying law degree, while continuing my career as a Detective with the Royal Cayman Islands Police Service.

The Truman Bodden Law School provides many benefits which larger law schools just cannot match; small class sizes allow for interaction and discussion with lecturers. Lecturers are accessible and operate a genuine open door policy and the diverse background of the student body adds breadth and experience to class discussions.

Due to the Law School's links with the University of Liverpool and access to the University's online resources, it is a small institution with a big reputation. It represents the best of both worlds, for me it's a win, win solution for studying a law degree!
Karlie Cross, Canada
"Grand Cayman is conveniently located internationally and is a direct flight away from many major airports!

The Truman Bodden Law School, with its small class sizes and constant student teacher interaction, provides an ideal learning environment to begin a career in law. Living in the Caribbean, while obtaining a University of Liverpool degree also provides a fantastic opportunity to live and study abroad. Mixing with people of different backgrounds and cultures means gaining an education both inside and outside of the classroom.

The institution is situated in central George Town which is very convenient, a five minute drive from Grand Cayman's international airport which has direct flights to a variety of locations such as Jamaica, Miami, New York, Canada and the UK.